Tweet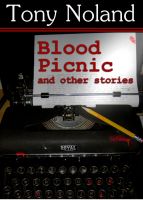 If you're part of the Friday Flash phenomenon, then you will no doubt have come across the work of the very talented Tony Noland. If you're not, then his new
Blood Picnic and other stories
anthology gives you the chance to discover exactly how good he is.
Anthologies are sometimes accused of having a lack of focus, but not so here.
Blood Picnic
is divided into four "chapters" - Tales of the Heavens, which contains six fantasy stories; Tales of the Earth, which contains eight literary fiction stories; Tales of the Moon, which collects six horror stories; and Tales of the Sun, which includes eight magical realism stories. Indeed, a hallmark of Tony's style is his verstatility, although his "voice" comes through strongly to add coherence to the diversity on display.
My own personal favourites are the superhero tale,
Grey Ghost Gone
;
Straight and True, My Arrow, Fly
, in which a pair of lovers discover the difference between love and lust;
Aspirations
, in which the extent of a young man's insecurities are laid bare;
Ridi, Pagliaccio
, in which a fading star tells a chilling story;
Long Story
, in which a desperate man tests the strength of duct tape; and
Reconciliation
, in which a penitent man tries to rejoin his family. The themes are varied and the endings are both happy and sad, but the strength of storytelling is self-evident, and the stories are clearly the work of a talented writer.
I had the privilege of seeing this anthology in its original form, and it's my absolute pleasure to be able to feature the finished article on my blog. I can't stress enough how enjoyable these stories are, with their intelligent plotting and deft wordplay. Tony has a vivid imagination and a true mastery of the written word, and I guarantee you'll find something to love in this collection.
Blood Picnic
is available from
Amazon
and
Smashwords
for the princely sum of $2.99. I'll be featuring an interview with Tony on Thursday, so stay tuned!